Ski and Snowboard Instructor
As a state qualified alpine national ski instructor, I am accredited to teach skiing and snowboarding on marked slopes as well as off-piste.
My goal is to share my passion for these two activities, exceeding your expectations, in a fun and friendly atmosphere.
Tailored coaching will allow you to improve your skiing or your snowboarding, having great fun at the same time.
With only a little effort, you will quickly be able to ride on your own and enjoy the snow with your family or friends.
Gaining in confidence, enjoying the fun of riding at your own pace, on your own or within a small group; come discover the huge Portes du Soleil ski area.
You may also want to try new fun ways of skiing: Free riding, free styling, carving, etc.
You have a very good level of Skiing.
Come and make your mark on the off-piste of the Domaine des Portes du Soleil.
Want a change of scenery... come and explore an exceptional natural environment, far from the beaten track and the crowds… ski touring.
Participants must be equipped with safety equipment (shovel, probe and transceiver) and have the basic knowledge for their effective use. Before each first outing, we will do an initiation session in search of avalanche victims.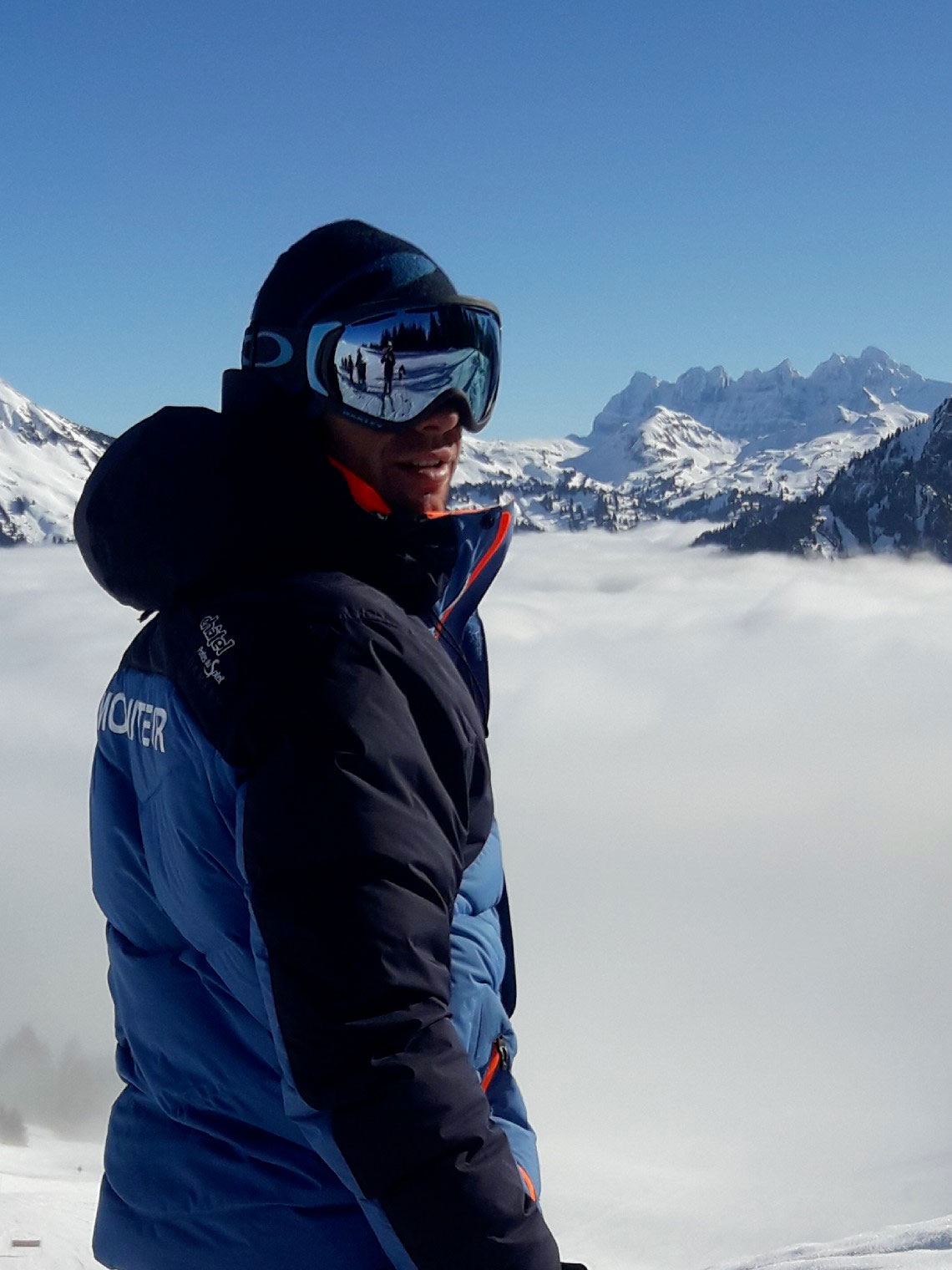 A native from the South of France, there were slight chances I would become a ski instructor. An "energetic" child, I successfully practiced many sports (judo, swimming, football, athletics, etc.) before I became fond of rugby.
I entered the school sport program in Toulouse for a 3 year college course, followed by a Scientific Baccalaureate. I then signed with the Colomiers rugby club and enrolled on a two year degree with the Faculty of Sports Science, where I graduated with a DEUG in 1999. I then obtained a BA at the University of Laval in Québec and a Masters degree in Adapted Physical Education in Montpellier.
This degree, along with a professional internship assisting paraplegics during a ski trip, allowed me to become part of the Antenne Handicap charity of La Plagne for the 2002 winter season.
During the 5 seasons I worked for this specialist ski school, I went from assisting people with disabilities to teaching techniques for sit and standing skiing.
After spending a winter season in New Zealand (summer 2002) and a year in Western Canada (2006), I took an FFS licence in order to be able to compete in all the Grand prix skiing competitions during the 2008 winter. I then passed my Test Technique (the prerequisite exam of teaching in France) in March.
I passed the Eurotest (giant slalom) on April 1st, 2010 (not an April fools!) after working as a trainee instructor at the UCPA camp in Valloire.
When I became a fully-qualified instructor in early 2015 at the age of 38, I had a total of 12 years experience in teaching skiing, snowboarding and sit skiing (including for people with disabilities), in both French and English.
This "late" training validated 15 winters spent learning, training, ski touring, discovering and analysing other ways of teaching and testing all, for one passion: The Mountain.